Hello

Hunterz

.

I'm glad today, to show you 5 days of pur works.

The map 4way has been designed in the theme of

Halloween

.

I'm going to show you some pictures about the map.

Before let's introduce what I add :

+10 Props / models added

(Imported by myself).
Custom textures / custom Overlay added.

Items

with

bonus

added (If the

administrator

agrees add).
New

sky

(

Halloween

theme)
Cool

particles

(Created by myself).
MAP :​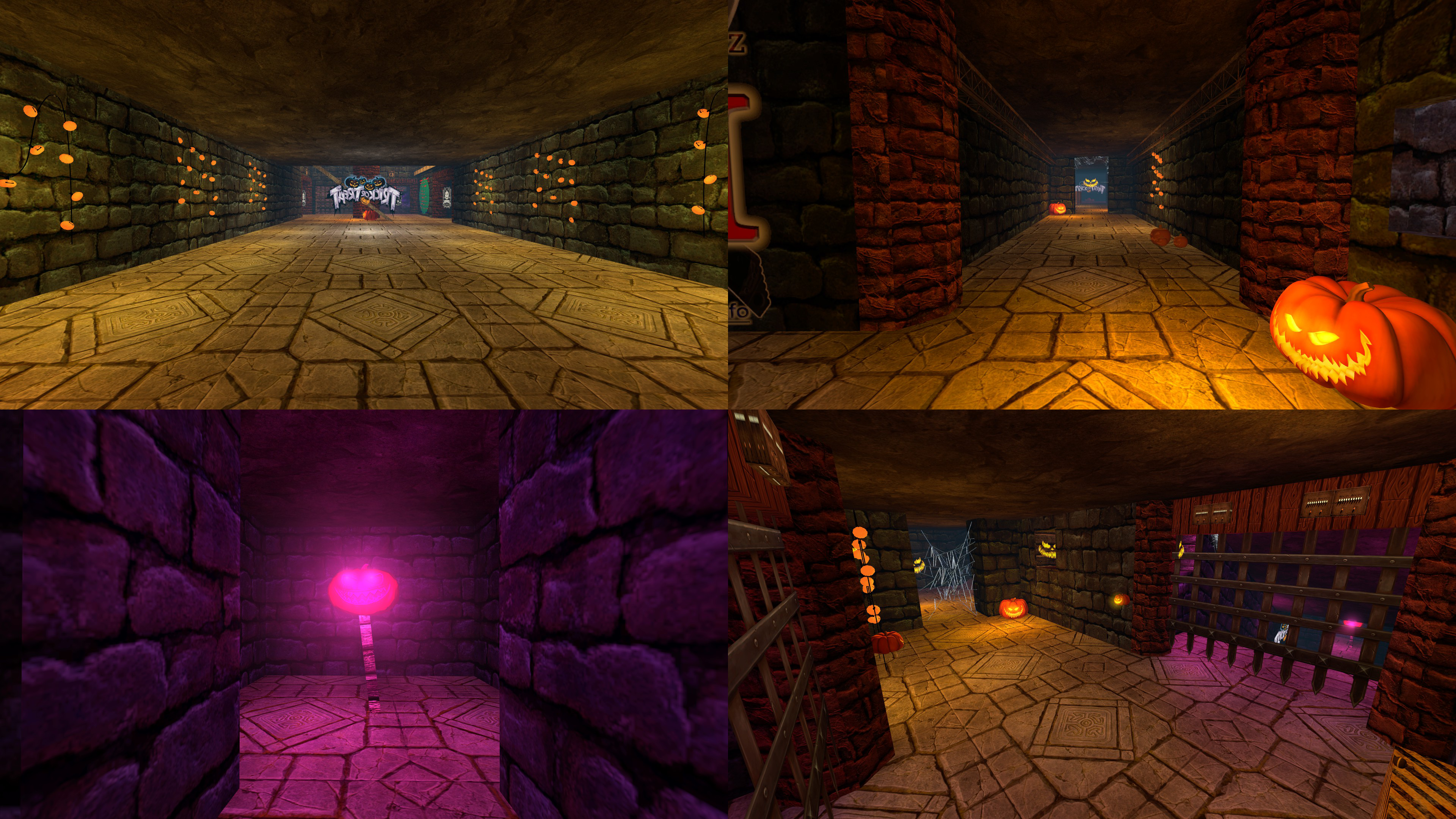 This is the map, I have not showed all the map.
Now, the items (With bonus).​
ITEMS :​
First you need to know : There is two Items for Zombies and Humans.
Halloween Suits / Dark Potion (
ZOMBIE ONLY

)
Sword / Resurection Potion (

HUMAN ONLY

)

Now what is the effect ?


Sword :

Immune to fall Damage

.

(Only the wearer have no fall damage, if the wearer give his weapon at another person, the precedent wearer are the fall damage back, so He can die, only the WEARER have no fall damage activated)

.​
Dark Potion :
Give 6000 hp for

ONE ZOMBIE

. (Only potion per round).​
Halloween Suits

: Beautifull Particles / His speed is increased of 0.25.​
Resurection Potion :
One More Chance

. This potion can be

used

one time per round. What he does ?

The wearer who press "E"

above him, are

teleported from UFO

(In the map), and can escape from zombie. It's only his chance to not die. After the potion used, his power disappears.

​
Don't hesitate to say if it's a good idea or not.
Tell me if it's too OP or not.
This is only for
Halloween Theme.

​
​
​
​

Just for the fun,
I added two small pets (With animation!)​

-Boo (Because it's a ghost)
-Shark (Just because he's insane).​
Map has been over-optimised.
All props / texture has been imported by me. (Except one texture (wood)).​
This is new, so don't hesitate to reported any problem / missing texture / sync textures.


Some Overlay has been created by me from Photoshop. (Banner Elite Hunterz and more...)


Sorry for my bad english.
Next map Marbble.​

[Bsp here coming soon]...
DoJor'F​