Saw players getting stuck here too often. I would say we simply should remove all the soda machines from that place,
Also the street lamps, especially this second one, are also a bit problematic. I guess as human you can get to that second one only with rb but once someone get their, defending this spot is too easy. So I would say this second street lamp needs to be removed or get closer to the building like the other one.
In general 2 humans with para can defend this street lamp quite easy. One reason for that is that runboosting is quite limited due to the fences. I think removing the fences would be a good solution so that zombies would be able to runboost from different angles.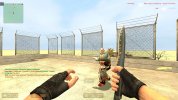 Furthermore I often see that zombies have trouble to get on the roof when many humans camp there.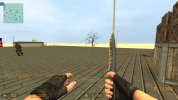 In theory there are enough ways to get up there but distances are quite large and when a zombie gets up, there can be a large amount of humans with autosniper, para and so on who can shoot zombies down again long before they get close to the humans. Maybe one or two more ways up to the roof on the sides could help to balance this spot. For example with boxes in the following corner we could get add another way to the top: